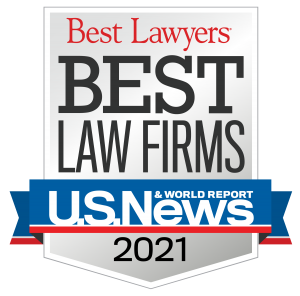 U.S. News & World Report and Best Lawyers recently released their "Best Law Firms" selections for the State of Rhode Island.
Higgins, Cavanagh & Cooney once again received a Tier 1 law firm ranking for Personal Injury – Defendants and Product Liability – Defendants.
This marks the eighth consecutive year that Higgins, Cavanagh & Cooney has achieved this Tier 1 designation in these practice areas from U.S. News & World Report – Best Lawyers®.
The rankings are based on a rigorous evaluation process that includes the collection of client and lawyer evaluations, peer reviews from leading attorneys in their field, and review of additional information provided by law firms.
Firms selected for the 2021 "Best Law Firms" list are recognized for professional excellence because of consistently impressive ratings from clients and peers. Achieving a tiered ranking signals a unique combination of quality law practice and breadth of legal expertise.
"This distinction by U.S. News & World Report and Best Lawyers highlights the depth of our experience and the extent of our legal talent at Higgins, Cavanagh & Cooney. We are delighted and honored to be recognized by our clients and colleagues in this manner following such a rigorous evaluation process by this prestigious arbiter of excellence within the legal industry." said Managing Partner James A. Ruggieri.
The 2021 rankings are based on the highest attorney and law firm participation on record.