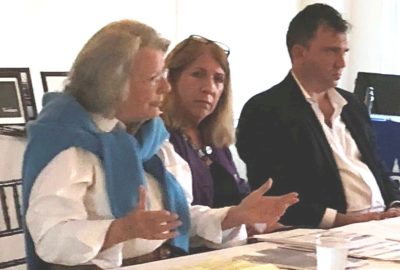 The Defense Counsel of Rhode Island (DCRI) sponsored a continuing legal education program on August 1, 2018 titled, "Mindfulness for Lawyers." The program focused on improving personal and professional development within the stresses and demands of everyday life including time constraints, work volume, competition, family obligations, and personal health.
HCC partner Stephen P. Cooney developed and moderated the program and was one of the featured speakers along with The Honorable Alice B. Gibney, Presiding Justice of the Superior Court. The seminar also concentrated on understanding basic techniques for work-life balance and building more ethical lawyering, civil communications, emotional intelligence, equanimity, and best practices. The evening program was held at the Harbor Lights Marina and followed the organization's annual golf outing.
DCRI is the state association of attorneys defending the interests of business and individuals in civil litigation. Members of DCRI include lawyers engaged in private practice, corporate counsel and insurance company counsel. DCRI serves as a forum for exchanging ideas on current issues of importance to defense lawyers, corporations and insurance companies.
Stephen Cooney's practice focuses primarily on civil litigation, including defense of products liability, toxic tort, premises liability, transportation litigation and insurance claims. He recently and successfully defended a leading manufacturer in a product liability lawsuit in federal court that Rhode Island Lawyers Weekly called one of the most important cases of 2018.
(In the photograph above, Presiding Justice Alice B. Gibney addresses the audience as Judith Hoffman, Executive Director of Coastline EAP, and HCC partner Stephen P. Cooney listen. Ryan McGowan, founder of Laid Back Fitness, also served on the panel.)