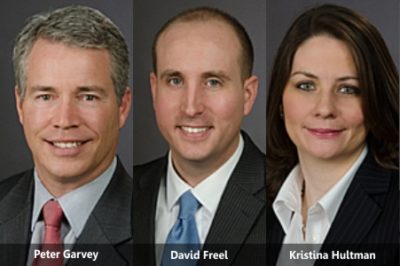 HCC partner Peter E. Garvey was recently recognized in the 2018 edition of Super Lawyers, New England for his expertise in the areas of professional liability, personal injury defense, and insurance defense.
Super Lawyers is a national rating service of outstanding lawyers from more than 70 practice areas who have attained a high-degree of peer recognition and professional achievement. The selection process includes independent research, peer nominations and peer evaluations. No more than five percent of the lawyers in Rhode Island are selected by the research team at Super Lawyers, New England to receive the "Super Lawyer" designation.
Peter maintains an active litigation practice throughout Rhode Island, Massachusetts and Connecticut. He also defends businesses in other matters of alleged negligence including premises liability, liquor liability and general insurance defense. In the process, he has achieved considerable success in defending major retailers and companies involved in the hospitality field.
After graduating from law school, Peter served as a law clerk to justices of the Superior Courts for Connecticut and Rhode Island. He is a graduate of the University of Rhode Island and the New England School of Law, where he graduated with honors.
In addition to Peter's selection, J. David Freel and Kristina I. Hultman were chosen as "Rising Stars" by Super Lawyers, New England. This marks the fourth consecutive year that both David and Kristina have received this exclusive recognition.
David represents primarily national and regional corporate clients before and throughout all phases of litigation generally within the areas of insurance defense, insurance coverage, premises liability, product liability, and employment law.  He has successfully defended insurance companies against claims of breach of contract and bad faith, and has authored numerous opinions on insurance coverage issues. He has also handled complex construction law cases and has participated in their settlement negotiations and arbitrations. He was also a member of the legal team that defended a high-stakes wrongful death case in federal court in Massachusetts involving aviation law.
He is admitted to practice in the state courts of Rhode Island, Massachusetts, and New Jersey, as well as the U.S. District Courts for Rhode Island and Massachusetts and the U.S. Court of Appeals for the First Circuit. He previously served as a law clerk in the Rhode Island Supreme Court's Law Clerk Department. He is a magna cum laude graduate of the Roger Williams University School of Law where he served as Executive Articles Editor of the Roger Williams University Law Review. Prior to law school, David graduated with highest distinction from the Pennsylvania State University.
During the past year, Kristina secured a significant jury verdict in favor of the defendant, a major national transportation company. Her impressive courtroom victory followed a six-day jury trial in which Kristina received several notable rulings at trial. She secured rulings limiting the scope of the testimony of the plaintiff's accident reconstruction expert; excluding all evidence of the plaintiff's loss of future earning capacity; and excluding several of the plaintiff's fact witnesses. In addition, she obtained a ruling that excluded records and bills from many of the plaintiff's medical providers in which hundreds of thousands of dollars in damages were sought.
Her practice focuses on product liability, premises liability, insurance defense and professional liability. In preparing for trial, Kristina has garnered extensive experience in arguing numerous dispositive and discovery motions and is well-versed in all aspects of pre-trial discovery.
Kristina also holds leadership positions in the Defense Counsel of Rhode Island and Defense Research Institute (DRI). She graduated from the College of the Holy Cross and received her J.D., magna cum laude, from Roger Williams University School of Law, where she was Associate Editor of the Roger Williams University Law Review. She is admitted to practice in both Rhode Island and Massachusetts.
To be eligible for inclusion as a "Rising Star" by Super Lawyers, New England, a candidate must be either 40 years old or younger, or in practice for 10 years or less.  No more than 2.5 percent of lawyers in any given state receive the designation of a "Rising Star" in any one year.