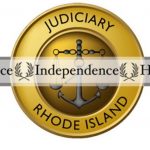 Effective as of April 13, 2020, Chief Justice Paul A. Suttell of the R.I. Supreme Court ordered the reopening of the Noel Judicial Complex (serving Kent County) and the Rhode Island Traffic Tribunal for emergency and essential matters.
However, the Murray and McGrath Judicial Complexes remain closed until further notice. In keeping with a previous order, all emergency or essential matters, which would have been heard in either of these judicial buildings, shall be heard in the Noel Judicial Complex.
The Chief Justice's order also contains the following key points.
Everyone entering a judicial building shall be subject to verbal screening for COVID-19 exposure or symptomology.
Only judicial officers, essential personnel, litigants, witnesses, and other necessary parties who pass this verbal screening shall be allowed to enter the judicial buildings.
All proceedings shall adhere to mandated social distancing and crowd restrictions
All judicial buildings are closed to the public, except as provided for above.
All filing deadlines, which would have expired between March 17, 2020, and May 17, 2020, shall be extended to May 29, 2020.
Statutes of limitations shall continue to run, given the availability of the electronic filing system.
Except for emergency matters, no in-person hearing shall take place in any judicial building unless otherwise assigned by the Presiding Justice, Chief Judge or Chief Magistrate.
Courts are encouraged to utilize videoconferencing tools whenever possible.
In such cases, oaths or affirmations shall be administered remotely.
All jury trials shall be continued until after May 17, 2020.
A copy of this Court Order by the Chief Justice is available here.
Additionally, Presiding Justice Alice B. Gibney of the R.I. Superior Court has issued a separate order governing nonemergency and nonessential matters. These matters may be conducted remotely during the period April 20, 2020, through May 15, 2020 and include:
Receivership Proceedings.
COVID-19 Receivership Program Matters.
Dispositive Motions.
Post-Conviction Relief.
Administrative and Magistrate Appeals.
Pre-Trial Motions/ Pre-Trial Conferences/Control Conferences/Status Conferences.
Other matters explicitly approved in advance by the Presiding Justice
A copy of her Court Order, which also includes the most up-to-date assignments of Duty Justices and Magistrates for emergency and essential matters, is available here.