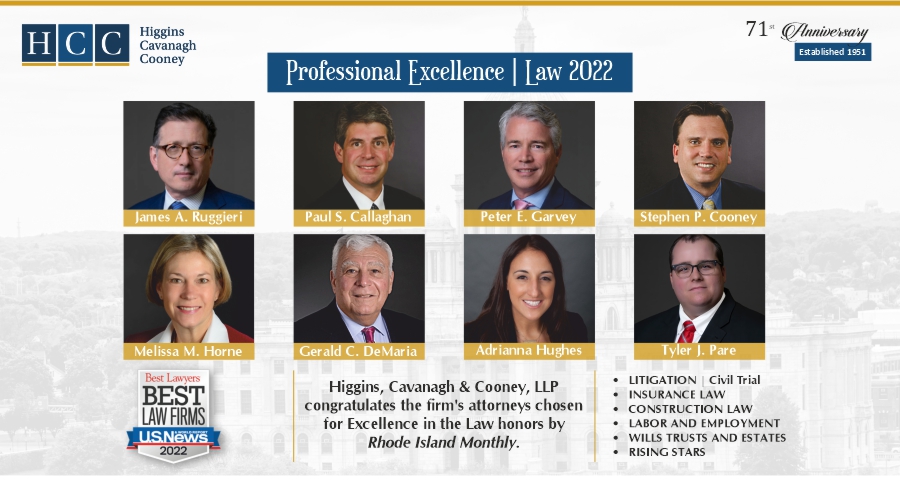 Higgins, Cavanagh & Cooney is pleased to announce that eight of the firm's attorneys were recently recognized for Excellence in the Law honors by Rhode Island Monthly. Only 6% of practicing attorneys in Rhode Island were selected. The honorees, who are listed below, were chosen based on several factors that included peer reviews and professional standing.
James A. Ruggieri concentrates his practice in products liability, insurance coverage, and employment litigation.
Paul S. Callaghan concentrates in construction litigation, insurance coverage, civil litigation, transportation litigation, and maritime litigation.
Peter E. Garvey focuses his practice on premises liability, insurance coverage, general litigation, and business litigation.
Stephen P. Cooney concentrates in the areas of product liability litigation and insurance litigation. He also defends mass tort class actions.
Melissa M. Horne focuses her practice primarily in business litigation.
Gerald C. DeMaria is widely recognized for his expertise in product liability litigation and personal injury litigation.
James Ruggieri, Paul Callaghan, Peter Garvey, and Stephen Cooney are Partners with the firm. Melissa Horne and Gerald DeMaria are Of Counsel.
In addition, Adrianna Hughes and Tyler J. Pare were recognized by Rhode Island Monthly as "Rising Stars" for their accomplishments early in their careers.
Adrianna Hughes and Tyler Pare are Associates with the firm.