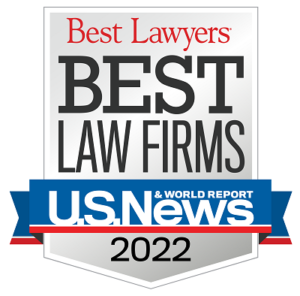 U.S. News & World Report and Best Lawyers® recently released their "Best Law Firms" selections for the state of Rhode Island.
Higgins, Cavanagh & Cooney once again received Tier 1 law firm rankings for Personal Injury Litigation – Defendants and Product Liability Litigation – Defendants.
This marks the ninth consecutive year that the firm has achieved Tier 1 designations in these practice areas from U.S. News & World Report – Best Lawyers.
Higgins, Cavanagh & Cooney was also recognized as a Tier I law firm in the area of Employment Law – Management in recognition of the firm's record of success in defending the rights of employers. The firm was also acknowledged for its expertise in defending class action lawsuits in multidistrict litigation.
The rankings are based on a rigorous evaluation process that includes the collection of client and lawyer evaluations, peer reviews from leading attorneys in their field, and a review of additional information provided by law firms.
Firms selected for the 2022 "Best Law Firms" designation are recognized for professional excellence because of consistently impressive ratings from clients and peers. Achieving a tiered designation, especially a Tier 1 ranking, signals a unique combination of quality law practice and breadth of legal expertise.
"This distinction by U.S. News & World Report and Best Lawyers highlights the depth of our experience and the extent of our legal talent at Higgins, Cavanagh & Cooney. We would also like to believe that such recognition reflects our abiding commitment to client service and the highest quality of legal representation," said Managing Partner James A. Ruggieri.
The 2022 rankings are based on the highest attorney and law firm participation on record. Best Lawyers rankings are published in leading local, regional, and national publications across the globe.