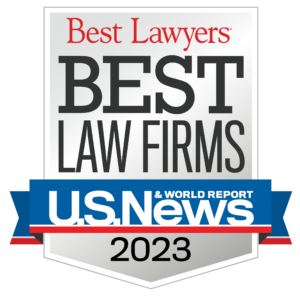 U.S. News & World Report and Best Lawyers® have just released their "Best Law Firms" selections for the State of Rhode Island.
Higgins, Cavanagh & Cooney again received Tier 1 law firm rankings for Personal Injury/Defendants and Product Liability/Defendants. This marks the tenth consecutive year that Higgins, Cavanagh & Cooney has achieved Tier 1 designations for these practice areas from U.S. News – Best Lawyers® "Best Law Firms."
Higgins, Cavanagh & Cooney was also named a Tier I law firm in the area of Litigation/Insurance for the firm's professional excellence in representing the industry and its policyholders.
Finally, Higgins, Cavanagh & Cooney was recognized for the firm's quality of practice in Employment Law/Management and for defending class action lawsuits in multidistrict litigation.
For the first time, U.S. News – Best Lawyers® "Best Law Firms" published the remarks of clients that were collected during the assessment process. Here are a few representative comments:
"Higgins, Cavanagh & Cooney handles 5-10 premises liability/personal injury matters for our company annually, both in Massachusetts and Rhode Island. They are efficient, highly knowledgeable and have produced strong results," according to an in-house counsel for a leading retailer.
"Higgins, Cavanagh & Cooney is a very responsive, knowledgeable, and professional law firm. I highly recommend their services," said the liability claim director at a multinational transportation company.
Rankings are based on a rigorous evaluation process that includes client and lawyer evaluations, peer reviews from leading attorneys in their field, and an examination of additional information provided by law firms.
Firms selected as 2023 "Best Law Firms" are recognized for professional excellence because of consistently impressive ratings. Achieving a tiered designation, especially a Tier 1 ranking, signals a unique combination of quality law practice and breadth of legal expertise.