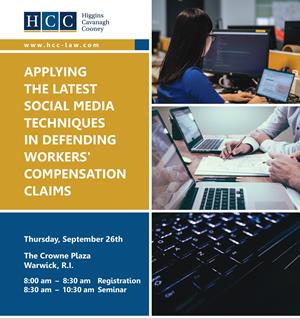 Higgins Cavanagh & Cooney is sponsoring a seminar entitled, "Applying the Latest Social Media Techniques in Defending Workers' Compensation Claims," which will be held at the Crowne Plaza in Warwick, R.I. on Thursday, September 26th from 8:30 a.m. until 10:30 a.m.
The keynote speaker is Michele Stuart, who consults and trains federal, state and local law enforcement agencies, the military intelligence communities, the insurance industry as well as numerous Fortune 500 companies and professional sports organizations in open source, social media and cellular security. She has been an instructor at Quantico (FBI Academy) and an adjunct professor at the University of Virginia. Her areas of expertise include open-source intelligence (OSINT), counter intelligence, insurance fraud investigations, and financial investigations. For this presentation, she will focus primarily on the use of social media and publicly available sources in investigations.
James T. Hornstein, Managing Partner of the Higgins, Cavanagh & Cooney Workers' Compensation Department, and Thomas R. Bender, former Associate Counsel at Brown University and now Of Counsel to the firm, will present a brief overview of relevant court decisions.
This seminar is designed to address new and emerging issues in social media unique to workers' compensation practice. This complimentary program is specially planned for interested insurance professionals and in-house counsel.
A copy of the program brochure is available here.